Stiga Multiclip 50S AE Mower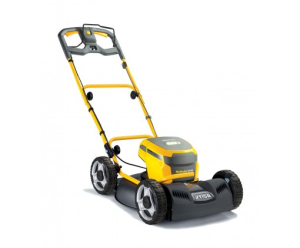 Add to Basket
Part No.
291502008/S17
Price

£524.17

(exc VAT)

Enjoy the pleasure of mowing your lawn with our innovative new 80 Volt Lithium-ion Multiclip 50S AE lawnmower, this mower is built from the ground up to provide the ultimate lawn mowing experience. The 80 Volt motor delivers comparable power to a 100cc petrol engine but with zero fumes or emissions plus it is around 40% quieter, and delivers enough power to cut up to 1000sq meters on one charge (dependent on conditions) and saves purchasing over 400 litres of fuel during its estimated lifetime. Talk about a good investment. Battery charge time 75mins.
Made of a robust steel chassis the Multiclip 50S AE is a self propelled mulching lawnmower featuring a large 48cm cutting deck with a choice of 5 heights of cut ranging from 31-75mm operated by a single lever.
Mulching is the easiest way to cut your grass and the innovative blade and deck design also makes the lawnmower quieter. The Stiga multiclip system cuts and recuts the grass into tiny pieces that simply wilt away, returning valuable nutrients to the soil to encourage beautiful green growth. You don't need to rake up the clippings or empty a collector, which means you can cut the grass about 30% faster compared to a collecting mower.
The Multiclip 50S AE comes with a 2 year manufacturer's warranty and is suitable for larger sized gardens up to 30m x 30m. Supplied with a 5.0Ah battery and charger this mower is an ideal introduction to the 80V range.


Motor
Motor Type
1500W Brushless Motor
Battery Capacity
80V 5.0Ah
Battery Charging Time
75mins
Drive
Cutting
Cutting Heights
31-75mm (5 Positions)
Cutting Height Adjustment
Centralised
General
Safety Features
Operator Presence Control
Included Accessories
5Ah Battery & Standard Charger
Wheels
Front 210mm Rear 210mm Ball Bearings
There are no downloads for this product.
Download