Ferax Flexi Head Spanner Set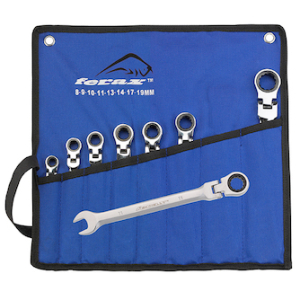 Add to Basket
Part No.
183510205
Price

£39.95

(exc VAT)

FeRax Tools 8 Piece Combination Flex Head Ratchet Spanner Set 8 - 19mm
Ferax supply quality tools at a cost effective price, whether it be a complete tool kit, a socket set or a compressor, all are supplied at a cost effective price with no sacrifice to quality.
Ideal for light industrial and automotive use as well as for the keen DIY enthusiast. When a more simple product with a good enough quality and a lower price is needed Ferax is proving to be very popular with stockists and end users alike.
Ferax economy 8 piece ratcheting flex head combination spanner set.
Combined ring/open ended spanners with 12 point ring.
Ratcheting spanners mm: 8, 9, 10, 11, 13, 14, 17, 19
Ratchet action on ring end for fast loosening and tightening.
Same size at both ends.
Chrome vanadium steel.
Supplied in handy tool roll
There are no downloads for this product.
Download