Tanaka TBC230SF Smart Fit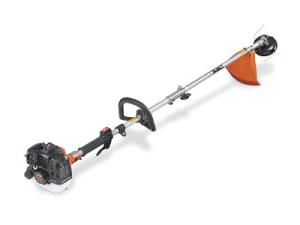 Add to Basket
Part No.
TBC230SF
Price

£299.99

(exc VAT)

Tanaka TBC230SF Brush Cutter
The Tanaka TBC 230SF Smart-Fit brush cutter is designed to extend a grass trimmer for multi-purpose use with additional attachments for garden use.
Features
Tanaka TBC-230SF Smart-Fit Grass Trimmer
Quickly and easily turn this trimmer into a pole saw, edger, pole hedge trimmer, mini-cultivator, or power sweeper.
Lifetime drive shaft warranty.
21 cc Displacement
1.1hp Power
Two-Stroke Engine
Smart-Fit solid steel drive shafts
5" semi-automatic trimmer head
5 year warranty* / LIFETIME Drive Shaft Warranty
4.9kg Weight
There are no downloads for this product.
Download